Filter Coffee has been around for quite a long time, and it has been an all-time favourite in the scene as well. Whether you are a first-timer coffee drinker or a passionate coffee lover, there's no doubt that Filter Coffee is a considerable choice. Despite its popularity among the coffee scene and your love for the brewing method, have you ever wondered just how many types of Filter Coffee there are? And which one is the best of all? Well, no more wonders, people! Because you are about to discover more and deeper about it, and with a few tips coming along the way.
But First, What is Filter Coffee?
Filter Coffee basically involves pouring hot water through the ground coffee and paper filter down to a carafe or straight to your cup. Like we explained right from the first sentence, it's been around for quite some time, as far back as the early 1900s in Europe, and even much longer elsewhere, until it was "reinvented" by the coffee industry in more recent years. It is actually a pretty simple method, but even so, Coffee Filter has been developed to be more complex and various as time goes by. So the next thing for you to learn is….
The Brewing Methods
Yes. There's more than one method of brewing Filter Coffee, as you might've figured or even tried a few of them. But spare some space for even further insights because who knows?
Coffee Filter Machine
A Coffee Filter Machine is usually the top choice for an amateur coffee drinker because it's so easy to use that it can be found in most households in Singapore. In general, how it works is actually pretty simple, it makes you a Filter Coffee with just a press on the button. If you want to learn more about how it works and how to use it properly, we got all you need to know here.
Coffee Filter Machine works well with any kind of coffee, but our favourite combo for the machine is coffee with fruity notes like Kenyan Coffee. Remember to grind your coffee on medium-coarse, and make it even better with a medium roast.
Hario V60
Hario V60 is probably the most popular manual brew up till today, it's so common to have it in coffee shops that sometimes, you order it without even knowing what it is. Well, we already talked about a summary about pour-overs and a few pro-tips about it here, but we're about to talk about what it brings out of your coffee.
As you've probably guessed, Hario V60 got its name from the V shape design with a 60° angle. It was particularly designed to get the most flavours out of the coffee, so it works with almost any kind of coffee due to its flexibility. However, this method is quite tricky for new brewers. V60 is often said to be a little inconsistent, but that only because it takes a little more skills to master. It allows you to be creative in your technique, making it very flexible for any tasting notes and bodies you want to brew.
Kalita Wave
Kalita Wave is often mistaken for Hario V60 due to its similar design, but in fact, they are quite far from each other when it comes to taste and consistency. If you just got into home brewing, Kalita Wave is the first thing you should try. Despite the fact that it produces less flavours than its pour-over sister V60, Kalita is far more consistent and easier to use, so it doesn't require a top-notch pouring skill to master. It creates a smooth and crispy cup with a heavier body.
Kalita Wave works best with a coarse to medium grind. Especially a medium roast of a chocolatey and nutty note. Brazil Ipanema is a must-try coffee when you're about to brew with Kalita Wave.
Chemex
If there's a dripper that'll catch your eye at first glance, that would be Chemex. This brewing method is pretty much unbeatable when it comes to aesthetics. But the look isn't the only thing that gets you intrigued, aside from its simplicity, Chemex also offers you efficiency with the design getting the carafe and the dripper all in one piece.
Chemex is unique among all others due to its thick filter that absorbs and filters the majority of the oils, leaving you with one of the cleanest-tasting cups of coffee. The grind size you'd want to use when having this dripper in hand is medium-coarse. And to get the most flavours in your brew, we'd recommend you a dark roast coffee with dried fruit and nutty notes like a lot of Sumatran Coffee.
Aeropress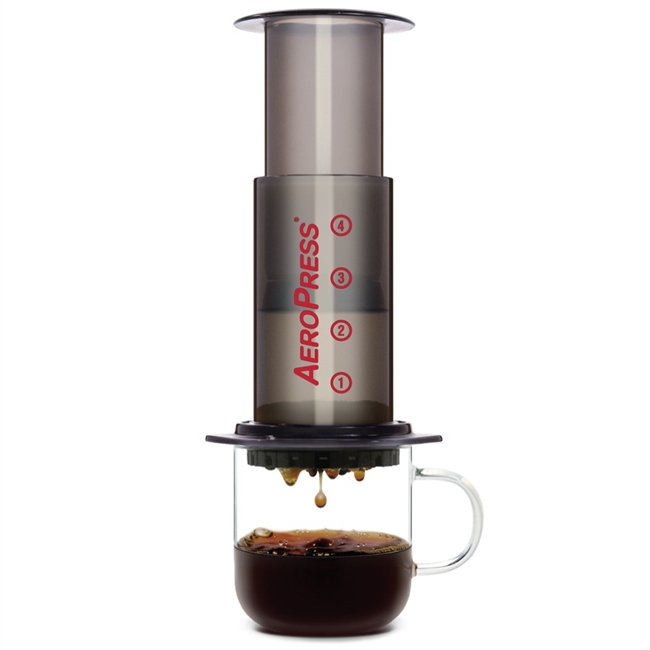 Here comes another manual filter coffee with a little industrial twist on the aesthetic. AeroPress is relatively young to the coffee brewing industry, being released in 2005, it is continuously developing and gaining lots of love among baristas and coffee drinkers.
Aeropress is the magic machine for dark roast coffee, especially if you go with chocolate and nutty coffee such as Guatemalan Coffee. It produces quality coffee, from cold brew to an espresso-like drink. The grind size doesn't even matter, the brew will always be clean, smooth and rich. Think French press minus the grounds on the bottom of your mug. It also brews your coffee in 60 seconds, making it the perfect on-the-go coffee maker.
Drip Bag Coffee
Now if you're the type that likes your coffee to be practical, this could be the one for you. Drip Bag Coffee is a new way of brewing coffee, offering you true convenience in getting your caffeine needs fulfilled. Not only making your brewing effortless, it also makes your coffee undeniably delicious, consistently keeping the perfect balance between flavours in any kind of coffee. And you don't even have to think about grind size because grinding wouldn't be necessary anymore.
Drip Bag Coffee is a total haven for drinking coffee at ease, and morningFirst just got you the best one of all. We passionately picked only the premium coffee that works best with the brewing method, such as Brazil Ipanema and Ethiopia Yirgacheffe. Giving you a whole new experience in your morning coffee, even better than ever.
Now that you've discovered just a little more about Filter Coffee, which one do you think is the best method? Well of course it depends completely on your own preferences. You might want to experiment with your brewing skills on V60, getting it done with just a push of a button on a Coffee Filter Machine, or playing safe with Kalita Wave's consistency, perhaps you like a clean and smooth coffee like Chemex and Aeropress, or the coffee that gives you all with just simple steps on Drip Bag Coffee, the decision is yours to make.